Top-Tier Marketers and Leading
Fundraisers Rely On Us.
Here is a list of some of our distinguished clients:
Leading publishers, national Direct Mailers, successful Non-profits, Fundraisers, and Faith-based organizations of all sizes rely on us to accurately target prospects, maximize the value of their lists, and exceed their marketing goals. This is our Client List: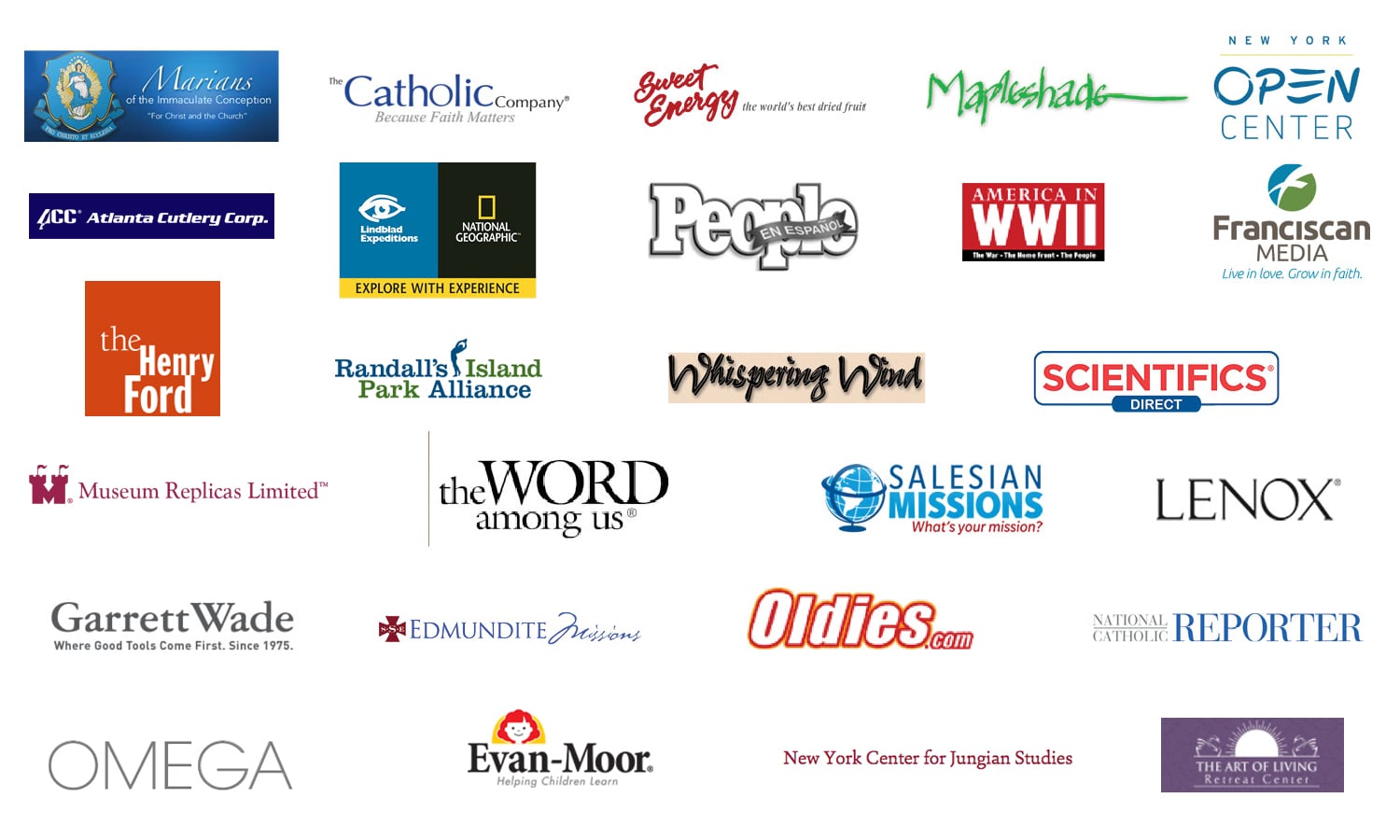 Aetna Health Insurance
America in WWII
America Magazine
Association of Marian Helpers
Atlanta Cutlery
BASCO USA, Inc.
BottomLine Publications
Catholic Company/ Trinity Direct, LLC.
Chevymall.com
Combe, Inc.
COMMONWEAL Magazine
Crazy Crow Trading Post Wholesale/Retail
Edmundite Missions
Evan-Moor Catalog Buyers
Franciscan Media/St. Anthony Messenger
Four Winds Society, Inc.
Georgia Innocence Project
HoneyBaked Ham Company
Hopi Education Endowment
buy tadalafil canada
Fund
Inner Traditions Catalog
La Palabra Diaria (Unity Publishing)
Leaflet Missal Catalog Company
Lenox Corporation
Liguorian Magazine
Lindblad Expeditions, LLC.
Loeb Enterprises, LLC.
Mapleshade Records Catalog
Max-R
McFeely's Square Drive Catalog
MidAmerica Motorworks, LLC.
Museum Replicas Ltd.
Music & Movie Greats Catalog
National Catholic Reporter Publishing Company
NAXOS of America
New York Open Center
Oldies.com
Omega Institute for Holistic Studies
Our Lady of Victory Homes of Charity
People en Español (Time, Inc.)
Rodale Press
Rogue Angler
Salesian Missions English & Spanish
Salesian Sisters of Don Bosco
Scientifics Direct Catalog
Society of St. Vincent de Paul (Georgia)
Speedgear Catalog
The Garrett Wade Tool Catalog
The Henry Ford Museum & Village Catalog
The Word Among Us
Tribal College Journal
Walthers Catalog
Whispering Wind Magazine
Written Heritage, Inc.